Bienvenue à la page des événements ! Cette page est divisée en trois sections :
Tous nos événements affichés dans un calendrier Google très pratique. Utilisez-le pour facilement copier les événements qui vous intéressent dans votre propre calendrier!
Contient les détails des événements qui se produisent dans le proche avenir. Cette section comprend également les liens pour les pages d'événement Facebook correspondantes!
Comprend un catalogue de tous les supers événements que nous avons organisé! Pour nos panels et ateliers de recherche, cliquez sur « En savoir plus » pour trouver un résumé des points clés appris lors du événement.
---
Événements à venir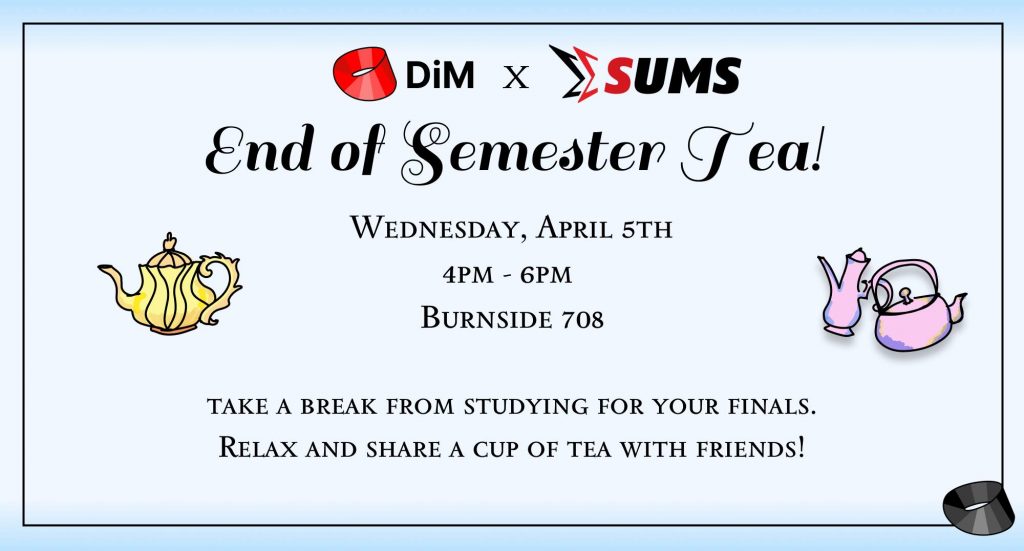 Diversity in Math and SUMS invite you to come celebrate the end of a long semester while enjoying tea with your friends on April 5th from 4-6 pm in Burnside 708! Take a break from studying to sip tea, munch cookies, and chat with friends. We even managed to book a room in Burnside this time so you have no excuses not to pop in for at least a few minutes 😉 As always cookies and tea will be provided, but please bring your own mug!
Événements réguliers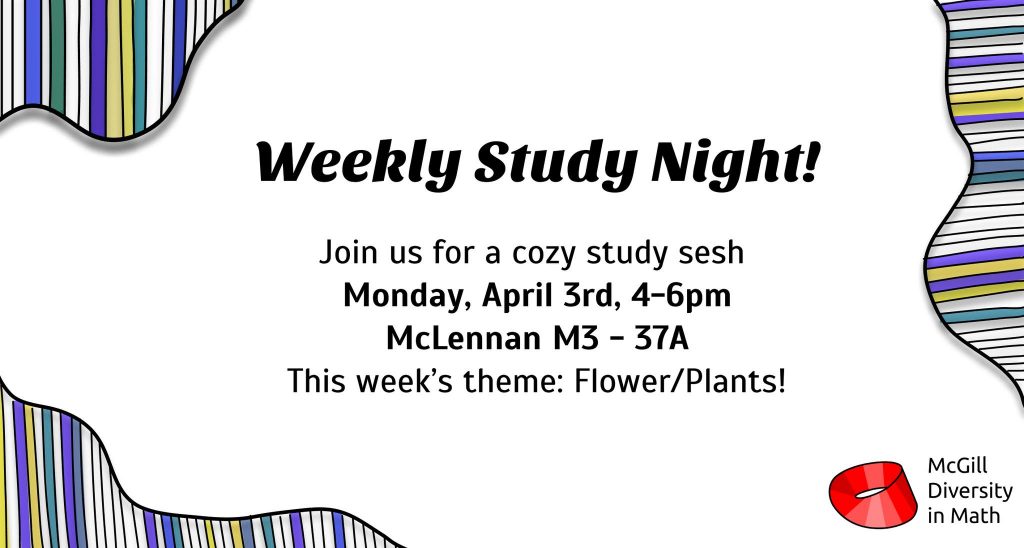 🌷🌱 Roses are red, violets are blue, Come meet some friends, eat some snacks, and get your studying in too!
This week's theme is FLOWER/PLANTS! Join us on Monday, April 3rd 2023, from 4PM – 6PM! We will be in-person in McLennan M3-37A, and we'll be providing snacks! If you have any snack suggestions, feel free to message us and we will attempt to procure them.
Excited to see you and the lovely living plants! 🌱🌷
---
Événements passés
Fall 2022 – Winter 2023
Fall 2021 – Winter 2022